Contact Us
Add: 13th F, Longyu International Building, Zhengzhou Area(Zhengdong), China(Henan) Pilot Free Trade Zone. 450046
Henan Bingo Pipeline Co., Ltd.
Henan Bingo Pipeline Co., Ltd. (Shandong Huaxin Plastic Pipe Co., Ltd.) is a comprehensive solution expert in the pipeline industry that specializes in the research and development, manufacturing, sales, construction, and consulting of plastic pipes and pipe fittings, with more than 20 years of research and development, production and sales experience. Our company has a modern standard factory building, modern enterprise management mechanism, covering an area of 1.5 million square meters. The total investment is RMB 1.5 billion. We have 1,200 employees, 304 senior and middle-level engineering and technical personnel, 8 laboratory personnel. It is China's "Member Unit of New Energy-saving Building Materials Association" and "Executive Director Unit of China Plastics Processing Association", It is one of the enterprises participating in the compilation of the national standard(GB/T13663) of plastic pipes in China. And has obtained "National Authoritative Inspection-Qualified Products". Passed ISO9001: 2015 Quality Management System Certification, ISO45001: 2018 Occupational Health And Safety Management System Certification, ISO14001: 2015 Environmental Management System Certification, EU CE certification, National Laboratory Accreditation Certification, Xinhua Water Saving Certification, China Environmental Label Certification, etc.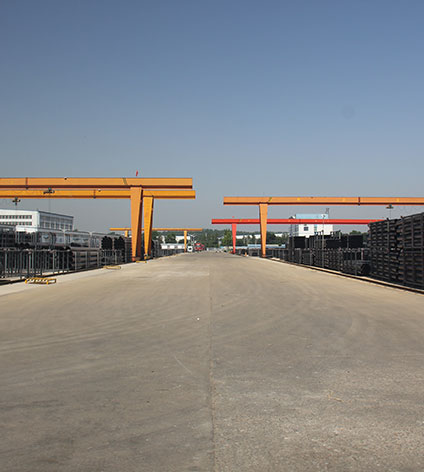 Our company has excellent facilities, the technical force is abundant and ranks among the domestic advanced level in the same industry. It has introduced international high-tech production lines. At present, the company has 320 high-speed pipe extrusion production lines and 150 high-speed injection molding machines. The key components of the production line are all imported from oversea. The equipment has a high degree of automatic production. The production process is fully automated by computer control and strives for perfection. It can produce 60,000 tons of PVC-M high impact pipes, 160,000 tons of PVC-U pipes, 40,000 tons of PPR, PE-RT pipes and fittings, 180,000 tons of HDPE pipes and fittings, and 40,000 tons of double-wall corrugated pipe. Form a complete products supply chain of plastic pipes and fittings, one-stop supply, can meet the various products requirements for different customers, and is one of the largest professional manufacturers of plastic pipes and fittings in northern China.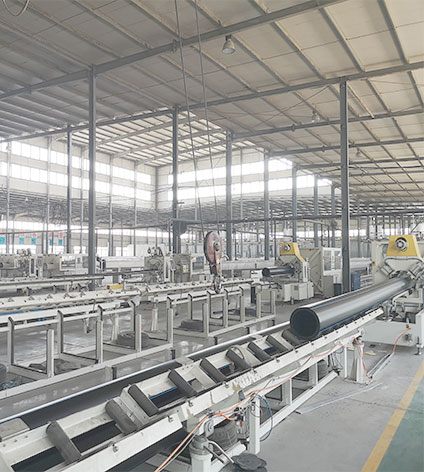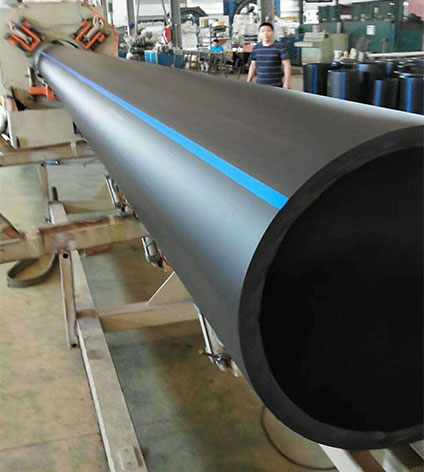 At present, the company's main products are: HDPE water supply pipe and fittings DN20-1600mm, HDPE gas and mining pipe and fittings DN20-1600mm, PVC-M high impact ppipe and fittings DN20-800mm, U-PVC water supply pipe and fittings DN20-800mm, PPR environmental protection pipes and fittings DN20-160mm, PE-RT floor heating pipe and fittings DN16-32mm, and HDPE/PVC-U cable protection pipe, drainage pipe and fittings, double-wall corrugated pipes, etc. All the products are strictly inspected in accordance with international standards, like EN12201, ISO4427 and some performance indexes far exceed international standards. The complete product supply chain systems, one-stop service concept, and strict product production quality control system can fully meet the requirements of various industries and fields at domestic and overseas. And the company is equipped with full-time personnel to carry out tracking services in all aspects and process steps of the product to provide a complete traceability system.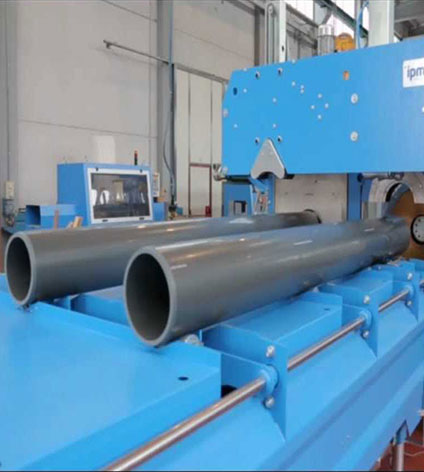 Our company invested more than RMB 20 million to establish the company's product testing center, including the sample room, chemical high-temperature greenhouse, mechanics room, hydraulic room and other physical and chemical performance testing laboratories. It can detect all the physical, chemical and mechanical performance indicators specified in international standards such as PVC pipe and fittings, PE PVC pipe and fittings, PPR, PERT pipes and fittings, as well as the performance indicators of some raw materials. It is assessed as Pipe Quality Testing Center by the Liaocheng City Quality and Technical Supervision Bureau in Liaocheng City, which was awarded a National Laboratory Accreditation Certificate by the China National Accreditation Service for Conformity Assessment.
The company's products are in the following industrial sectors:
| | |
| --- | --- |
| Environmental | Petrochemical & Chemical |
| Agricultural & aquaculture | Power Distribution |
| Food Processing | Infrastructure |
| Mining & Mineral Processing | Industrial manufacturing |
| Oil & Gas | Water & Wastewater |
| Paper and Pulp Manufacturing | Petrochemical |
| Fertilizer | Dredging & Marine Applications |
| LNG (Liquefied Natural Gas) | Clean and ultra-pure water process |
The high-quality HDPE water supply pipe and fittings produced by our company are widely used in China Water Corporation, large-scale airport construction, water conservancy engineering construction and other projects. HDPE gas pipe fittings are the designated supplier brand of China Resources Gas and ENN Energy. we serve Civil Engineering, Urban Water Supply, Municipal Drainage, Water Conservancy Engineering, Mining, Oil, Gas, Electric Power, Energy, Marine, Communications, Fire Protection, Agricultural Irrigation, Urban Green Irrigation and other industries, with professional knowledge, high-quality products, perfect service system and rich experience. Our products not only occupy a pivotal position in the domestic market, but have been exported to Southeast Asia, Africa, South America, Oceania, Europe, the Middle East and other regions and countries, won a good reputation.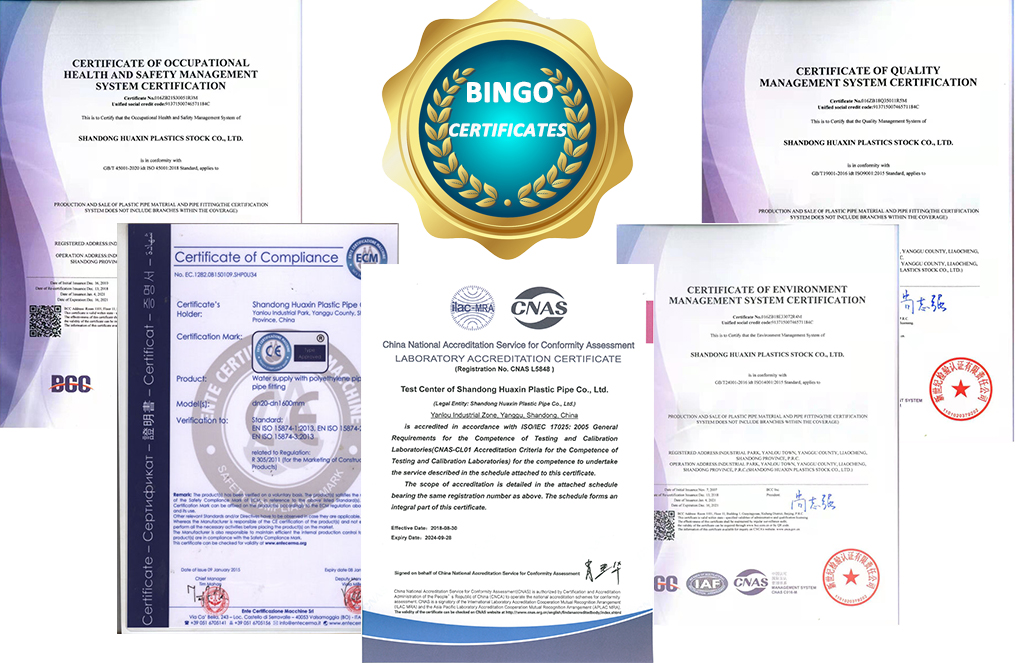 Bingo Pipeline, upholds high-quality service, excellent products with very competitive prices, delivers qualified and satisfactory products to every customer, and keep challenging, innovating and developing, keep up with the progress of the times, and use advanced technology, modern management, and rich experience create continuous value for customers.
Write Down Your
Question
We are not only a product manufacturer, also a solution provider, whether you have a Question or Request For Quotations, we're here to help.