HDPE Reducer Tee SDR7.4 and SDR9
1. Diameter: DN63-2000mm(2 inch-80 inch) 2. SDR: SDR6, SDR7.4, SDR9 3. Material: PE100, PE80, PE4710, PE3608, PE100RC… 4.Delivery: In Stock, Quick Deliery. 5.Packing: Packaged by cartons or bags 6.CO (Certificate of Origin): China, CO could be provided by free. 7.Products Inspection: Raw material, production process, delivery or third-party factory inspection 8.MOQ: Trial Order or 1*20ft containers by mixed loading.
Bingo Pipeline Provide high Pressure Butt Fusion HDPE Reducer Tee SDR7.4 and SDR9 for Water and Gas, OD50-2000mm, SDR7.4, SDR9 HDPE fittings at competitive price.
Quick Details of HDPE Reducer Tee SDR7.4 and SDR9
Products details information
Product name
HDPE Reducer Tee SDR7.4 and SDR9
Brand
Bingo pipeline(Customer brand is available)
Dia Ranges
SDR6, SDR7.4, SDR9 DN63-2000mm(2 inch-80 inch)
Application
HDPE butt Fusion Fittings for drinking water, fresh water, drainage, mining, dredging, marine, industry, chemical...
Raw material
PE100, PE80, PE4710, PE3608, PE100RC...
Category
HDPE butt fusion fittings, HDPE stub end, HDPE tee, elbow, reducer, reducer tee, cross....
Pressure Class
SDR6-PN32, SDR7.4-PN25, SDR9-PN20
Color
Black
Matching products
HDPE pipe fittings, Customized PE fittings, DI/ Steel backing ring flanges, Valves, water meter, flow gauge, welding machines and tools, etc.
Company/Factory Strength
Production Capacity
120*40ft containers/month
Sample
Free sample could be provided
Quality
QA & QC system, Ensure traceability of each process
Warranty
50 years with normal use
Certificates
ISO9001, OHSAS 18001, ISO14001,CE...
Delivery time
5-30 days, depending on the quantity
Test/Inspection
National Standard Laboratory/ Pre-delivery inspection
Service
Research, Design, manufacture, Test, Sales, Solution Providing, After-sale service
Management
Effective 8S Management System
No. of employees
More than 300 people
Welcome customers to visit the factory, or third party factory inspection is acceptable.
High Pressure HDPE Butt Fusion fittings DN50-2000mm SDR6, SDR7.4, SDR9
HDPE Butt Fusion HDPE Fittings
HDPE 45° Elbow
HDPE 90° Elbow
HDPE Stub End
HDPE Tee
HDPE Reducer Tee
HDPE End Cap
HDPE Reducer
HDPE Eccentric Reducer
HDPE Solid Rod
HDPE Hollow Bar
Specification of  HDPE Concentric Reducer SDR7.4 and SDR9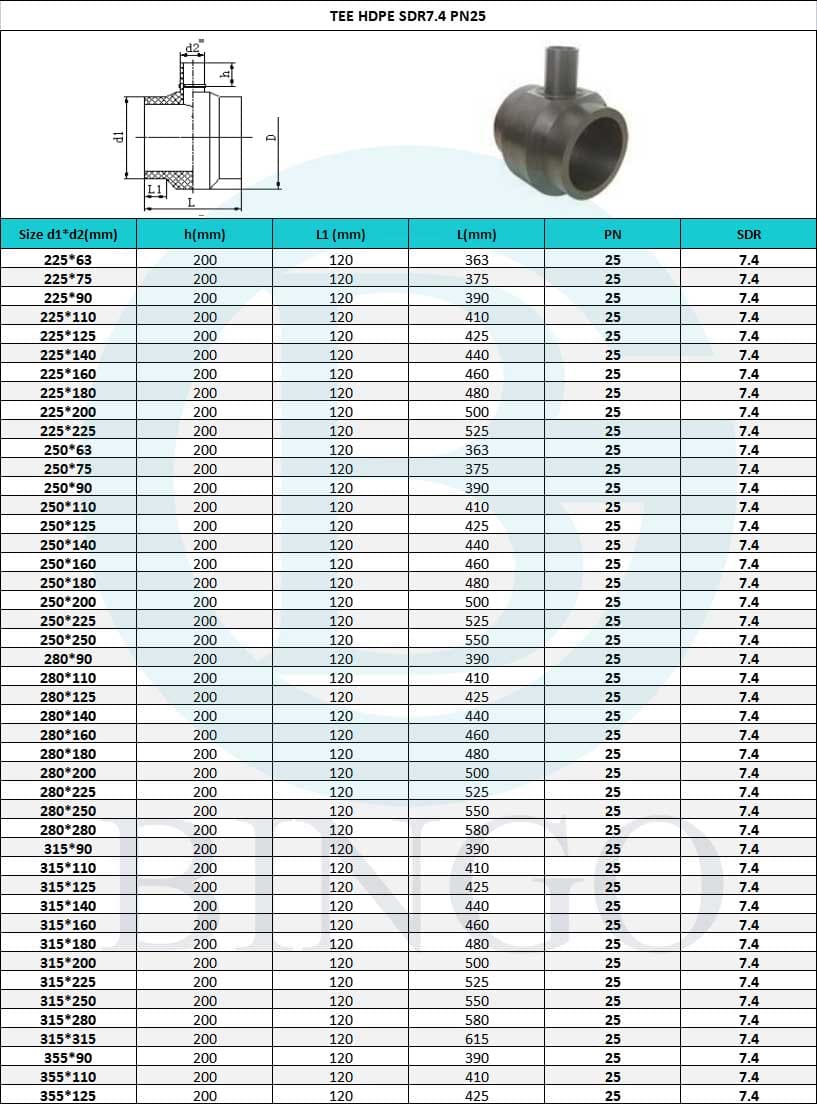 Applications of HDPE Reducer Tee SDR7.4 and SDR9
We create regular HDPE fittings and customized fittings for a variety of uses.
1.Potable water networks
2.Oil and Gas Systems
3.Drinking water projects
4.Pressure water projects
5.Non-pressure water pipelines with the lower pressure number
6.Natural gas pipes as PE 80 Pipe or PE 100 Pipe
7.Petrolium area applications
8.Industrial area applications
9.Pool projects
10.Fish farm projects
11.Mining projects
12.Dredger piping projects for Sea Outfall drainage
13.HDPE Dredging Pipe
14.Drainage projects as Perforated HDPE Pipe
15.Non-Perforated HDPE pipe
16.Sewer pipelines
17.Natural spring water projects
18.High power cable protection projects
| | |
| --- | --- |
| | |
| Butt Fusion HDPE Stub End for Water Pipe Connecting | Fabricated HDPE Fitting for Water Supply |
| | |
| Butt Fusion HDPE Connecting for Natural Gas Pipe | Butt Fusion and EF Fittings for Water Pipeline |
| | |
| Fabricated HDPE Tee for Drainage | HDPE Electrofusion Fitting for Portable Water Pipeline |
| | |
| Electrofusion HDPE Fitting for Fire Fithgting Network | Customized HDPE Tee for Mining |
HDPE Reducer Tee SDR7.4 and SDR9
Write Down Your Question
We are not only a product manufacturer, also a solution provider, whether you have a Question or Request For Quotations, we're here to help.