Geomembrane Welding Machine BGT-900 Series
BGT-900 series thick geomembrane welding machines suitable for 1.0-3.0mm thickness hot melt materials such as PE, PVC, HDPE, EVA, PP, and so on.
1.Rated Voltage: 230V/120V (can be customized).
2.Rated Power: 1800W/1650W.
3.Seam Width: 15mm x 2, Interior Cavity 15mm.
4.Material Thickness Welded: 1.0-3.0 mm (Single Layer).
5.Delivery: In Stock, Quick Deliery.
6.Packing:Packing by aluminium box.
7.MOQ: 1 Set.
8.Warranty:1 year.
BGT-900 series geomembrane welding machine adopts advanced hot wedge structure. With its high power, high speed and pressure, it welds 1.0mm-3.0mm thickness hot melting materials such as HDPE, LDPE,PVC,EVA,ECB,PP and other hot melt materials. This machine is specially designed for water conservancy, aquaculture, landfills, chemical mining, sewage treatment, roof constructions and other waterproofing projects.
1. Accept small orders and satisfy small batch customization services.
2. Meet the voltage requirements of 120V and 230V in different countries and the plug requirements of EU standards, American standards, and British standards.
3.The operation is simple and intuitive, heating temperature closed-loop control, on-site working voltage display, real-time monitoring of working parameters.
4. It is convenient to choose the appropriate pressure according to the thickness of the material. The T-shaped cantilever head design ensures pressure.
5. Closed loop control system and pressure regulation system..
Model of Geomembrane Welding Machine BGT-900 Series
El modelo BGT-900D tiene más funsión de visualización de velocidad, también tiene la función de compensación de velocidad, es decir, la función de velocidad constante. Si encuentra una pendiente ascendente o diferente espesor de material, acelerará automáticamente para garantizar que la velocidad siga siendo la misma, de modo que la calidad de la costura soldada sea uniforme y el efecto de soldadura sea mejor
Details of Geomembrane Welding Machine BGT-900 Series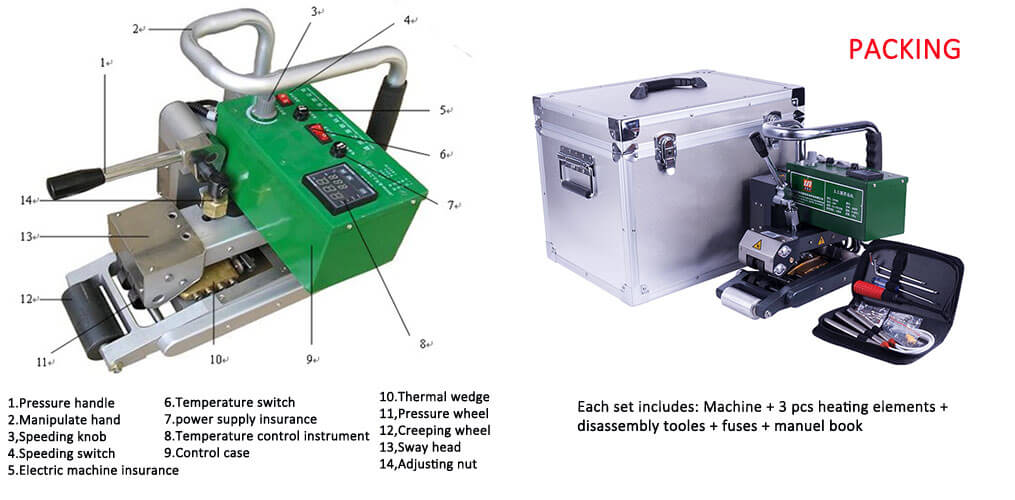 Specification of Geomembrane Welding Machine BGT-900 Series
Model
BGT-900
BGT-900D
Rated Voltage
230V/120V
230V/120V
Rated Power
1800W/1650W
1800W/1650W
Frequency
50/60HZ
50/60HZ
Heating Temperature
50~450℃
50~450℃
Welding Speed
1.0-5m/min
1.0-5m/min
Material Thickness Welded
1.0mm-3.0mm(single layer)
1.0mm-3.0mm(single layer)
Seam Width
15mm*2,Interior Cavity 15mm
15mm*2,Interior Cavity 15mm
Weld Strength
≥85% material
≥85% material
Overlap Width
12cm
12cm
Digital Display
temperature display
Temperature and speed dual display
Welding pressure
100-1000N
100-1000N
Body weight
13kg
13kg
Warranty
1 year
1 year
Aplication
Waterprooofing projects: tunnels, subway, water conservacy, farming, solid waste landfills, chemical mining industry, sewage treatment, roofing and so on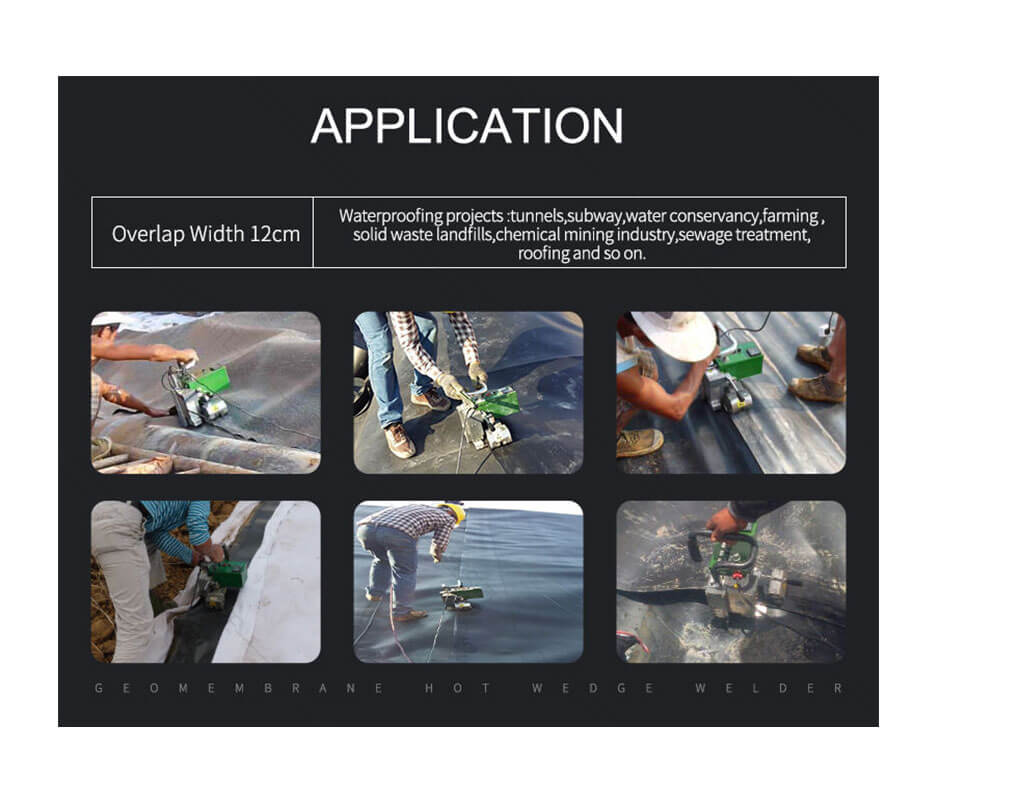 Geomembrane Welding Machine BGT-900 Series
Write Down Your Question
We are not only a product manufacturer, also a solution provider, whether you have a Question or Request For Quotations, we're here to help.