Contact Us
Add: 13th F, Longyu International Building, Zhengzhou Area(Zhengdong), China(Henan) Pilot Free Trade Zone. 450046
Quality Control
In many fields, the quality requirements for plastic pipes and fittings exceed the common standard requirements, which requires manufacturers to have inspection links and quality control mechanisms in the raw materials and production process of pipes and fittings, as well as technical measures that affect product quality.
Bingo Pipeline strictly implements the quality policy of "Quality is Life", strengthens and guarantees product quality, and establishes a strict quality management system, which mainly includes 2 points:
1. Quality assurance requirements for raw materials and raw material manufacturers
2. Quality Control requirements for the manufacturer of pipes and fittings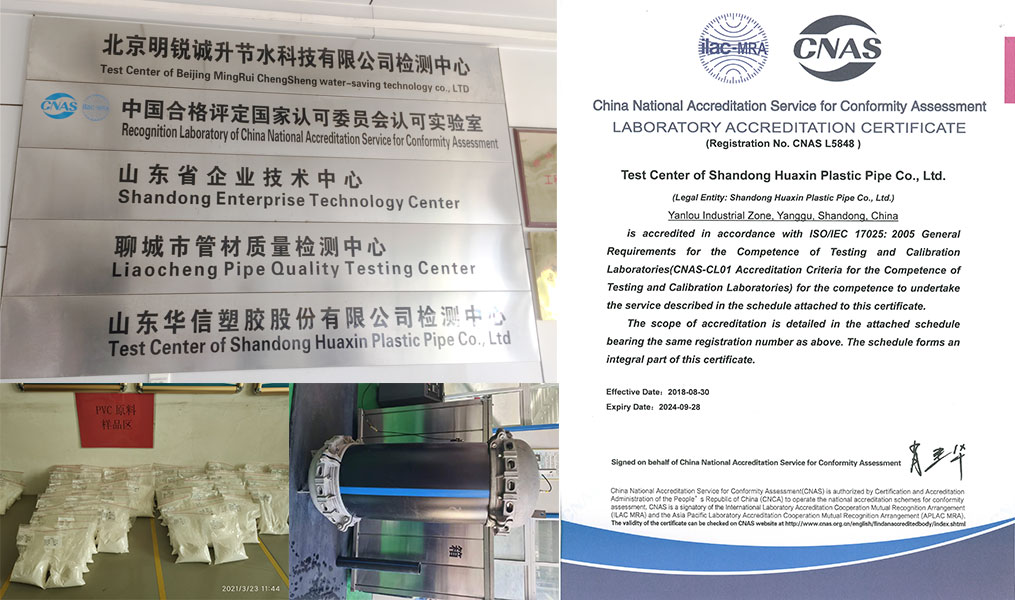 High-quality final products can only be obtained by using high-quality raw materials. Therefore, our quality assurance requirements for raw materials and raw material manufacturers mainly include the following parts:
1. Strictly screen the qualifications of raw material suppliers, and all the raw material suppliers we choose have passed the ISO9001 quality management system certification.
2. The raw materials approved by PE100+ Association are selected. PE100+ Association ensures the very highest quality of PE 100 products by continuously monitoring three fundamental properties :
Creep Rupture Strength (CRS)
Stress Crack Resistance (SCR)
Resistance to Rapid Crack Propagation ( RCP)
Only those PE100 pipe materials that have been regularly tested and meet the requirements can be included in the "Certified Material List". In order to ensure that the quality and continuity meet the requirements, these materials must first pass two rounds of regular testing (see website for details: https://www.pe100plus.com/PE-Pipes/materials/r207.html)
Download the PE100+ Quality Materials list
3. The raw material supplier is required to inspect the raw materials delivered each time and provide an inspection report of the inspection items. The inspection report shall meet the relevant requirements of DIN EN 10204-3.1
Qualified raw materials are the first step for us to ensure product quality. As a manufacturer, we have also established a complete quality control system.
Part 01

Incoming Inspection Of Raw Materials. In addition to the inspection and test reports of the raw material from suppliers, our laboratory personnel will inspect the raw materials every time before the material enter our factory, take samples from each batch, check and carry out the inspection of the main performance and processing characteristics (for example moisture content, melt flow rate, purity), then compare with the quality assurance clause of the supplying contract and the inspection report of the raw material from suppliers. Only when the test results are within the allowable tolerance range, this batch of raw materials can be accepted.

Part 02

Quality Control Standards. The quality of pipes and fittings not only depends on the quality of the PE compounds, but also on many control standards in the pipe production process. We produce pipes and fittings in accordance with the dimensions, wall thickness and tolerance required by international standards strictly. Continuous online control and manual inspection are used to inspect the production process at any time to ensure that ensure that each pipe exceeds the standard requirements before entering the next step.

Part 03

Finished product testing. The incoming inspection of raw materials ensures that the delivered pipe compounds meet specific quality standards, and a large number of inspections must be carried out during and after production. These inspections include not only on-line inspections during production, but also sampling inspections in production for each batch products. It involves not only non-destructive experiments in the laboratory, but also destructive tests, such as dimensional inspection (diameter, wall thickness and out-of-roundness), appearance inspection, short-term experiment, long-term experiment (internal pressure and destruction experiment), and finished product MFR experiment, packaging inspection, etc. The finished product can be shipped only after strict testing is carried out in accordance with international standards.

Part 04

Inspection certificate. In order to ensure continuous high quality standards, we compile the internal test records of each batch into a book, which is used for daily work records and inspection reports, so that all internal test results of each batch of products are clear, the products received by customers are qualified in accordance with related product standards. These documents must be kept for no less than 10 years to ensure that the work and inspection reports can be repeated and traced at any time.

Part 05

Remarks and traceability. A lot of additional information on the pipes and fittings that we produced are provided, such as raw materials, production machines, production dates, sizes and standards, raw material grades, etc. These marks are printed on the pipes by laser coding, with an interval of no more than 1 m, Which can be recognized even after being buried underground for a long time and faded. At any time, the production history of the product can be traced through these marks.

Part 06

Quality management. Strict quality management is not only by increasing the frequency of quality control to find problems, but the ISO9001 system pays more attention to avoiding errors at the very beginning. We strictly follow the 8S management system and implement the quality assurance clauses within the scope of the ISO9001: 2015 quality management system. Make the internal control process and system audit form a systematic record and continuous evaluation.

Bingo pipeline does hold the ISO9001:2015 certificate of registration that certifies the Quality Management System of Bingo pipeline. More practical project cases have also proved that our high performance HDPE pipe and fittings satisfy the oil, gas, mining, industrial, municipal water markets and other applications.

Part 07

External audit. In addition to the strict internal quality control system certification, all products are also subject to regular external product audits in accordance with relevant procedures, obtaining relevant registration and approval, and forming a supervision agreement with a third-party independent testing agency.
Providing customers with high-quality products, high efficiency work, excellent services, and cost control are the key points that an enterprise should pay attention to. We have been working hard to achieve a more successful HDPE/PVC pipe fittings manufacturer.
Write Down Your
Question
We are not only a product manufacturer, also a solution provider, whether you have a Question or Request For Quotations, we're here to help.