Geomembrane Hot Air Welding Machine BGT-700
BGT-700 thick geomembrane welding machines suitable for 0.5-2.0mm thickness hot melt materials such as PE, PVC, HDPE, EVA, PP, and so on.
1.Rated Voltage: 230V/120V (can be customized).
2.Rated Power: 2800W/2200W
3.Seam Width: 15mm x 2, Interior Cavity 15mm.
4.Material Thickness Welded: 0.5-2.0 mm (Single Layer).
5.Delivery: In Stock, Quick Deliery.
6.Packing:Packing by aluminium box.
7.MOQ: 1 Set.
8.Warranty:1 year.
The welding machine adopts advanced hot air heating structure, small size, light weight, and fast welding speed. It can ensure the best welding effect for corrosive materials or construction in harsh environments. The product is used in tunnels, subways, water conservancy, aquaculture, Waterproof and anti-seepage projects in biogas digesters, landfills, chemical mining, sewage treatment, roof construction and other fields.
1. Accept small orders and satisfy small batch customization services.
2. Meet the voltage requirements of 120V and 230V in different countries and the plug requirements of EU standards, American standards, and British standards.
3. Advanced "T" type boom design and pressure regulating structure.
4. Advanced intelligent digital control system, temperature and speed are displayed on the LCD screen.
Details of Geomembrane Hot Air Welding Machine BGT-700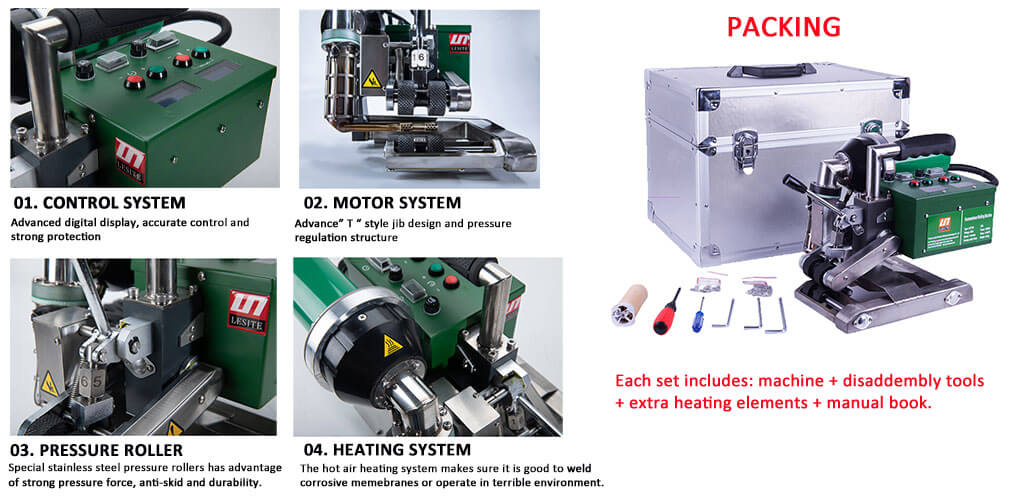 Specification of Geomembrane Hot Air Welding Machine BGT-700
| | |
| --- | --- |
| Model | BGT-700 |
| Rated Voltage | 230V/120V |
| Rated Power | 2800W/2200W |
| Frequency | 50/60HZ |
| Heating Temperature | 50~620℃ |
| Welding Speed | 0.5-3.5m/min |
| Material Thickness Welded | 0.5mm-2.0mm single layer |
| Weld Width | 15mm*2,Interior Cavity 15mm |
| Weld Strength | ≥85% material |
| Overlap Width | 16cm |
| Digital Display | Yes |
| Body Weight | 7.5kg |
| Warranty | 1 year |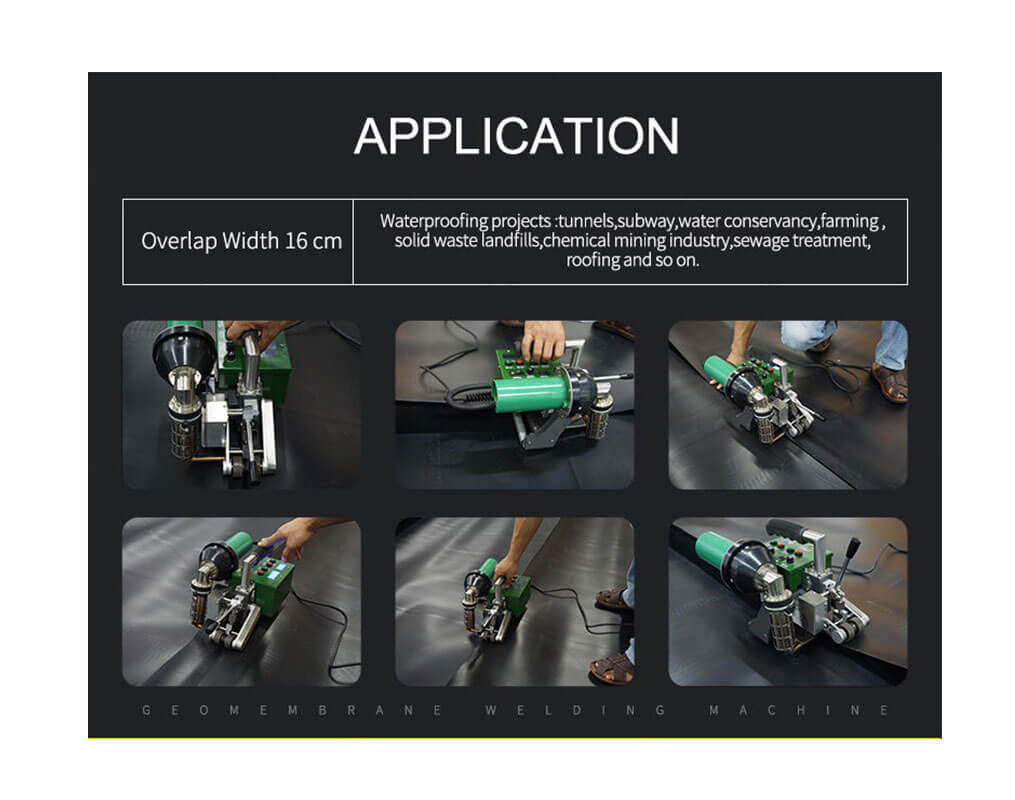 Geomembrane Hot Air Welding Machine BGT-700
Write Down Your Question
We are not only a product manufacturer, also a solution provider, whether you have a Question or Request For Quotations, we're here to help.